Property
United States of America
New Mexico
Guadalupe
Agricultural-Ranch-Recreational
Pintada Ranch
New Listing
Pintada Ranch, Santa Rosa, New Mexico, USA
Pintada Ranch, Santa Rosa, New Mexico, USA, 2,453.00 Acres
$1,350,000
Discover a true gem of the Southwest, the Pintada Ranch, a spread encompassing 2,453 acres of natural beauty and endless possibilities. Located approximately 10 miles southwest of Santa Rosa, New Mexico, this exceptional property with its picturesque landscapes, abundant vegetation, and versatile characteristics is available to purchase. The Pintada Ranch presents an unparalleled opportunity as a prime cattle or horse ranch, with the added potential for harnessing solar or wind energy.
As you enter the Pintada Ranch, you'll be captivated by its rolling hills and arroyos, creating a stunning topography that showcases the diversity of the surrounding landscape. Exploring the rolling hills and arroyos, you'll be greeted by the enchanting beauty of the eastern New Mexico landscape with mesquite, cedar, gramma grasses, and buffalo grass. These natural elements create excellent rangeland for cattle and horses. Whether you desire to raise livestock or are an avid equestrian enthusiast, this property is designed to cater to your passions, providing an excellent environment for raising and enjoying livestock. With its fully fenced boundaries and additional cross-fencing, the Pintada Ranch offers a ranch ready for your livestock.
Situated just 10 miles southwest of Santa Rosa, the Pintada Ranch benefits from its proximity to this charming town. Santa Rosa is known for its warm community spirit, rich history, and vibrant local culture. Within the town, you'll find a range of amenities, services, and local businesses that cater to your daily needs. Additionally, Santa Rosa is conveniently located approximately 120 miles east of Albuquerque and 100 miles southeast of Santa Fe, offering easy access to the urban amenities and cultural attractions of these major cities.
The region surrounding Santa Rosa is a haven for outdoor enthusiasts and nature lovers. The Pecos River, known for its stunning beauty, meanders through the area, providing excellent opportunities for fishing, boating, and water sports. Santa Rosa Lake State Park located nearby, is a popular destination for camping, hiking, and wildlife observation. With its scenic trails and breathtaking vistas, the surrounding landscape invites exploration and adventure.
If you're interested in immersing yourself in local attractions, Santa Rosa boasts several popular tourist destinations. The historic Route 66, which runs through the town, offers a nostalgic journey through time, showcasing iconic Americana. The Blue Hole, a natural swimming and diving spot with crystal-clear waters, attracts visitors from all over the world. The region is also known for its caves, such as the mesmerizing Carlsbad Caverns, and ancient Native American ruins, which provide a glimpse into the rich cultural heritage of the area. Fort Sumner, the burial place of Billy the Kid and home of Bosque Redondo (The first Navajo Reservation) is just a short drive to the south.
The Pintada Ranch, priced at $1,350,000, is a remarkable property offering an idyllic setting for a cattle or horse ranch. Its fully fenced boundaries, stunning topography, and abundant vegetation create the perfect environment for livestock and outdoor enthusiasts. With the potential for harnessing solar or wind energy, this property opens up exciting possibilities for renewable energy ventures. Embrace the natural beauty of the rolling hills, immerse yourself in the recreational opportunities of Santa Rosa and its surroundings, and relish the allure of nearby tourist destinations. The Pintada Ranch awaits you as a gateway to an extraordinary lifestyle in the heart of New Mexico.
Location
The ranch is located approximately 10 miles southwest of Santa Rosa, New Mexico.
Albuquerque, New Mexico - 2 hours
Santa Fe, New Mexico - 1.5 hours
Carlsbad, New Mexico - 3.5 hours
Amarillo, Texas - 2.5 hours
Access
Ranch is accessible via US Highway 54 and gravel road.
Elevation, Topography, Vegetation
The ranch is situated at an elevation of 5,000 feet. The topography consists of rolling hills and arroyos with mesquite, cedar, grama grasses, and buffalo grass.
Improvements
The ranch is a blank slate with several building locations that will offer expansive views from which to enjoy beautiful New Mexico sunrises and sunsets.
Recreation
The area offers various opportunities for recreation including:
Financial verification required to schedule showing.
All units of measure and maps showing property boundaries are approximate. Buyer to verify to their own satisfaction.
This property is offered by John Hayter Inc, DBA Ranch Marketers. All information provided by Ranch Marketers or their sales representatives in connection with this property was acquired from sources deemed reliable and is believed to be accurate and reliable, however, we do not warrant its accuracy or completeness. Ranch Marketers recommends that every item of importance to the purchaser (i.e. water laws, mineral laws, zoning, land use regulations, state, federal and private permits) be independently verified by the purchaser and/or purchaser's attorney.
Main Info
Postal / Zip Code :

88435

State / Province : New Mexico
County : Guadalupe
Closest City : Santa Rosa
Lot Size Acres : 2,453.00 Acres
Dwelling : No
Taxes
Tax Year : 2022
Estimated Taxes per year are $130.00
$1,350,000
Broker Info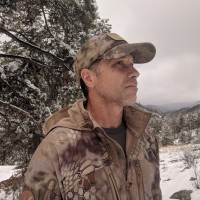 John Hayter has a lifetime of experience in the land and ranch industry as he was born and raised to a long line of pioneering Texas ranchers. John holds a Bachelor of Science Degree in Wildlife Management with a minor in Equine Science and is a licensed real estate broker in Texas, New Mexico and Colorado. John began his career managing ranches and wildlife management consulting and after many trips to the Rocky Mountains for ski vacations, he and his family decided to make the mountains their home. John moved his family to Colorado in 2006. At this time, due to his experience in conducting exhaustive land searches, he conceived the idea to combine his experience into a service for land brokers, developers, buyers, and sellers. He researched, developed, built, and launched the first national multiple listing service specific to land – www.landbrokermls.com. John went on to successfully sell part of www.landbrokermls.com and along with 2 additional partners founded Open Fences Magazine, a national luxury rural real estate publication. In addition, in 2018 John, along with his partners and other prominent land brokers, founded and launched the first national Land Broker Co-op. Having been raised on a ranch, it was natural for John to have a deep connection to the land and nature. As a boy, he enjoyed tromping across the mountains, hunting small game and fishing with his grandfather. Later on John became a passionate hunter and fisherman. John has hunted all over the West and taken numerous big game trophies with rifle, muzzleloader and bow from Texas to Alaska. He has numerous web design and development certifications and broad web programming experience and owns and operates his own web development and design companies and has the background, knowledge and experience to provide the highest exposure via web traffic, social media and print media for all his clients: Eagle Scout, National Rifle Association Life Member, Rocky Mountain Bighorn Society (President 2021-2022, Vice President 2020, Board of Directors 2019-2022), Rocky Mountain Bighorn Society Publication Editor (2020-2023), Rocky Mountain Bighorn Society Life Member, North American Hunter Life Member, NRA Legion of Honor, Licensed Private Pilot, Certified Negotiation Expert (CNE), Strathmore's Who's Who, and Cambridge Who's Who Registry Amoung Executives and Professionals
Contact us for more information
on this property
Additional Properties
Presenting the exquisite Manzanita Ranch, an unparalleled oasis nestled approximately 30 miles southeast of the bustling hub of Albuquerque, New Mexico. Priced at $2,100,000, this expansive 93-acre property is a testament to nature's splendor and exclusivity, offering a unique blend of seclusion and accessibility that few can rival. Manzanita Ranch stands as an epitome of convenience and tranquility, a mere 35-minute drive from the vibrant h....Read More

Message successfully sent
Accessibility