Idaho's state motto is Esto perpetua, which is Latin for "Let it be eternal." With Idaho ranches that can span for thousands of acres over a large property, it sometimes feels like the land and sky might indeed extend for all eternity.
If you're looking for a ranch with land, the opportunities in Idaho simply can't be beat. Here are a few fun and interesting facts about the Gem State's biggest claims to fame for ranching, agriculture, and an incredible natural history.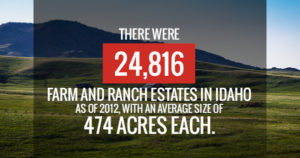 Idaho is famous for its potato production, which accounts for roughly one-third of all potatoes grown in the U.S. But in addition to spuds, Idaho also ranks number-one in the country for barley crops and trout production.
There were 24,816 farms and ranch estates in Idaho as of 2012, with an average size of 474 acres each.
Ranchers, farmers, and other landowners in Idaho and around the country have been able to construct more than two million miles of conservation buffers, thanks to the Farm Bill. These buffers help improve air, water, and soil quality as well as protect the natural wildlife habitats and beautiful scenery of the area.
With a human population of just 1.6 million, there are more cows than people in Idaho. As of January 2015, there were 2.3 million head of cattle and calves along with 260,000 sheep and lambs in the state.
If the people of Idaho had to consume all of the agriculture they produce, every person would need to eat 49 potatoes and two pounds of cheese per day.
Idaho is also home to a burgeoning wine scene, with over 1,300 acres of vineyards and 50 operational wineries with award-winning vintages.
More than 3,100 miles of riverfront waters give life to many a ranch with land in Idaho, with the famous "River of No Return," the Salmon River, running 425 miles through the central part of the state.
Though sometimes overshadowed by its larger Western neighbors, ranch property in Idaho often comes at an incredible bargain. From potatoes to pike fish and with natural land reserves that run rampant with mineral riches, the beauty and peaceful living of Idaho is second to none.