Broker / Agent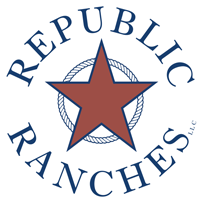 About Republic Ranches, LLC
Republic Ranches, LLC is a referral broker based out of Houston, Texas. They are an elite farm, ranch and rural properties brokerage firm serving many states They have offices in Austin, Corpus Christi, Dallas, Hondo, Houston, and San Antonio that allow them to effectively cover a broad region of the finest ranches in North America. As a team, they bring a new level of professionalism, talent, dedication, and unwavering ethics on behalf of their clients.
5 property listings found
Monarch Ranch, Comstock, Texas, USA
A rare jewel in the desert, the Monarch Ranch is located on over 5 miles of the pristine Devils River 30 miles upstream from Lake Amistad. Stunning views of the Devils River Basin and deep canyons greet visitors to the ranch as you climb over 300 from the river. Fantastic hunting and fishing, miles of paved roads and a 6,000 lighted and paved airport runway make the ranch extremely accessible in this dramatic country. The purported largest volume cave in Texas and remains of Fort Hud....
$ 26,089,700
40,138 acres
Big Game, Fishing, River Frontage, Stream River, Water Sports, Waterfowl, Wildlife Viewing
Rock Canyon Ranch, Del Rio, Texas, USA
With stunning views, outstanding hunting, star filled night skies and first class improvements, Rock Canyon Ranch is a true gem located where the Trans Pecos, the Hill Country and the Brush Country come together in Val Verde County. At about 10,700 acres with sweeping valleys and awesome ridgelines, Rock Canyon is in an elite group of large high quality Texas ranches. This ranch boasts some of the finest native and exotic game hunting in the area, with both high fenced and low fenced....
Running M Ranch, Navasota, Texas, USA
Running M Ranch is a true gentlemens cattle ranch located just 12 miles south of College Station. The ranch is set up well to continue running a high-end cattle operation, own a fantastic recreational ranch, or as an investment for future development. The property boasts a classic ranch home overlooking a 20 acre fishing lake, several other large lakes, over 2 miles of Navasota River frontage and almost a mile of frontage on Hwy. 6 between Navasota and College Station. ....
$ 7,250,000
550 acres
Big Game, Fishing, House, Lake Frontage, Lake Pond, River Frontage, Stream River, Waterfowl, Wildlife Viewing
Bear Man Bluff Ranch, Silsbee, Texas, USA
Hidden along the banks of the Neches River on a historic high point is Bear Mans Bluff Ranch. The stewards of this ranch have transformed the land into an idyllic family retreat that features the highest end of authentic Texas ranch lifestyle. The main lodge sits overlooking the river, surrounded by massive oaks and cypress trees. Sitting on the porch carries owners and guests to a simpler time, while offering extensive comfort and convenience. Miles of trails, a beautiful bass lake,....
Five Oaks Ranch, Bay City, Texas, USA
Five Oaks Ranch is a premier 550+/- acre hunting and recreational property located in the heart of the central waterfowl flyway near Bay City, Texas approximately 2 miles west of the Colorado River, and 10 miles north of the Gulf of Mexico. Topography and Habitat: 50% of the ranch is covered in heavy woods with 500+-year-old live oaks and two miles of live-water creeks that traverse the property. This habitat holds healthy numbers of deer and wild hogs that provide combination....
$ 2,970,000
550 acres
Big Game, House, Pond, Upland Bird, Wildlife Viewing